Southern TimberCraft
Beauty of wood, affordability of systems built homes.
Mountain Stream is the Dealer for Southern TimberCraft
in Tennessee, South Carolina and East Georgia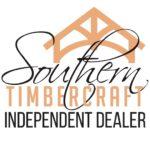 Southern TimberCraft designs, mills and builds distinctive homes and commercial structures that combine the luxurious beauty of wood with the affordability of systems built construction. At the right are some of Southern TimberCraft's original plans that can be completely customized as to number of bedrooms, interior layout, choice of building materials, exterior features and more. Call Dennis Bowman, Independent Dealer for Southern TimberCraft in Tennessee and Darin Bowman in South Carolina to get your customized plan started.
EXPOSED TIMBER ELEMENTS
Timber Elements bring the relaxing warmth of natural wood right into your home. High ceilings of exposed heavy timber wood beams and trusses will be admired each time you arrive home. Timber porches and wooden exterior accents highlight the home's distinctive appeal.
DISTINCTLY YOURS
We work with each customer to create a special place for them to call home. Each personalized and custom home design is a reflection of our client's needs, wants and desires. It conveys their personality and lifestyle.
EXPERIENCED GUIDANCE
We are available to work with clients to help them  design and build homes of all shapes and sizes, from small cabins to traditional homes to spacious estates to commercial buildings. No project is too big or small.  As real estate agents, we can help you find the perfect land on which to build your home or business. Contact us to explore how Mountain Stream and Southern Timbercraft can transform your dream into reality.
NATURALLY LOW MAINTENANCE
We offer a wide variety of exterior materials, textures and styles to achieve the natural look clients want with very little maintenance needed. A balance is struck between true wood components and composite materials to create a home that appears to have grown within the landscape it inhabits.