For event registration, contact us!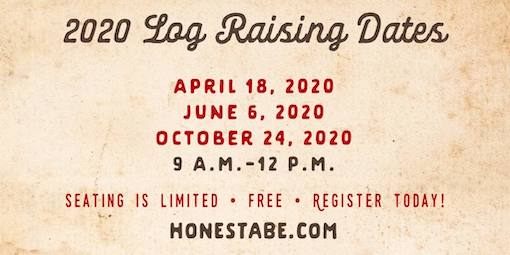 Mountain Stream Log Homes invites you to attend the Honest Abe log raisings and Home Tours in 2020 at Honest Abe's National Headquarters in Moss, Tennessee. We encourage you to make your plans and your reservations early since these reservations-only sessions have...
Mountain Stream Log and Timber Homes wants to inform and inspire anyone who's looking to build log and timber frame home. That's why events and activities are planned in conjunction with our manufacturer, Honest Abe Log Homes, throughout the year to give wood home enthusiasts the chance to learn more about products, plans and procedures as well as visit a variety of types of wood homes.
On five separate occasions during the year Honest Abe hosts Log Raising and Manufacturing Tours at its National Headquarters in Moss, Tenn., during which time members of the company build a small structure, showing and describing the process of building an Honest Abe log or timber home. Held on Saturdays, the free event begins at 9 a.m. and includes light morning refreshments and a free lunch. Required registration for the free event may be made by calling or emailing us HERE.
July is National Log Cabin Month and is celebrated across the country celebrate with special events. Check Events and follow us on Facebook, Google+ and Twitter to get updates about home tours, open houses, construction site visits, log raisings, home shows and more.
Attending a Log and Timber Home Show is the perfect opportunity to get started planning a dream home. That's why Honest Abe Log Homes is a sponsor of these informative shows, hosts a booth and is a participant in the accompanying Log Home University held throughout the year in various U.S. locations. Some of the exciting things to do at a Log & Timber Home Show might include obtain price estimates on a dream home, view hundreds of floor plan ideas, find land for sale, see or purchase interesting décor or meet editors from Log Home Living, Timber Home Living and Cabin Home Living.
For home show information and registration for your region visit www.thelogandtimberhomeshow.com.
Keep informed about opportunities to indulge the passion for log and timber design and construction by registering for our email updates.