The idea of a log home often conjures visions of a house perched majestically on a mountain ridge or alongside a placid lake. Most of us picture a large, restful deck overlooking scenic vistas and nestled in a lush forest.
When we think about walking into the log home, we typically envision a great room's soaring ceilings with exposed wood beams and tall two-story windows. There's a flowing floor plan with living, dining and cooking all enjoyed in one great room, while only the bedroom and bath remaining private.
That style of log home may be the dream of some homeowners, but maybe that's not yours. For many people a typical great room is just too… well, great. Sometimes those soaring ceilings and large open rooms are simply overwhelming. Living in one large space may not be perfect for your family members' individual styles.
If you're a family with young children, maybe all the toys and gear need a play space that just isn't the entire living space for the family. You may want a space that your middle and high schoolers can entertain safely at home without you in the middle of their groove.
For people with different ideas about what "picked up" means, a great room frequently doesn't allow one person to be the messy human he or she really is without driving a neatnik family member crazy.
Maybe you prefer to have a kitchen that gives the chef some privacy and a place for clutter and dishes without making it part of the family living space. You certainly want to be able to serve quickly to the dining room but do not necessarily want your guests to see the dirty pots and pans.
In some cases, Honest Abe homeowners have simply imagined using a traditional home design but created from logs or timber frame components.
Holly and Tim Oakley, Honest Abe homeowners who completed their 2,200-square-foot home in 2015, worked with Honest Abe's design department to modify the Honest Abe Livingston plan's great room to create the historic cabin atmosphere they had imagined.
"A full wall was erected between the living room and dining room," Holly said. "We added a pantry in the kitchen and moved the location of the refrigerator to create a clear separation between the kitchen and dining room."
The Garnett home utilizes an open design with a partial wall to create a cozy living room and retain ample heat circulation. Learn more about the Garnett home here.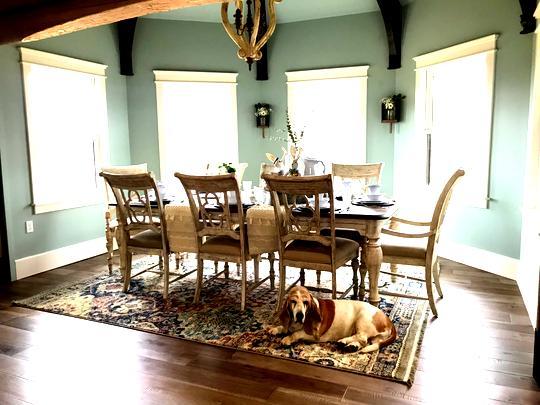 The Pattersons found innovative ways to create separate spaces by using nooks, arches and pocket doors. Click here for more about the Patterson home.
The Oakleys created a separate kitchen, dining and living room from an open floor plan to simulate the feel of traditional log cabins. Read more here
The Oakleys erected a floor-to-ceiling log wall between the living room and dining room but left the staircase landing area and upstairs hallway open, which still highlighted the wood ceiling and beams.
Jim Garnett, a 92-year-old Honest Abe homeowner who accomplished his lifelong dream of living in a log cabin in 2016, chose the Honest Abe Raleigh plan because its exterior appearance reminded him of the log homes in the Westerns he'd grown up watching at the movies. The interior hallway leads to a master suite, study, guest bath and a guest room, but what would have been an open living space became two distinct rooms.
"I wanted my den to be separate from the kitchen and dining area, so I had a partial wall built that enabled me to have a lot of kitchen cabinets and create a barrier," he explained. "You can still see the wood beams and ceiling from both rooms, and the open space also lets the heat from the wood-burning fireplace keep both rooms warm."
Many of Honest Abe Log Homes' floor plans that feature open first floor spaces can be modified to retain log home grandeur while creating cozy or functional separate living spaces. A more traditional design with additional interior walls creates options to use a variety of building materials. Some rooms may lend themselves to drywall for walls and ceilings, providing the chance to use crown molding or introduce timber frame elements.
April and Nick Patterson's new home is an outstanding example. While the home's exterior showcases Honest Abe's 10" round logs, several interior walls feature post-and-beam elements stained to create a striking contrast with the drywall and tongue-and-groove ceiling.
"We wanted to create separate spaces, so we installed sliding double doors between the kitchen-dining room combination and the living room," April Patterson explained. "Using the drywall and timber frame materials offered opportunities for hanging interesting wall décor as well."
The Honest Abe design team can work with you to create rooms that let you close a door when you want, and that can go a long way in making a house feel more like a home.
©2018, Honest Abe Log Homes